Reading Time:
3
minutes
Try This Healthy Thanksgiving Dinner–It Tastes Good Too!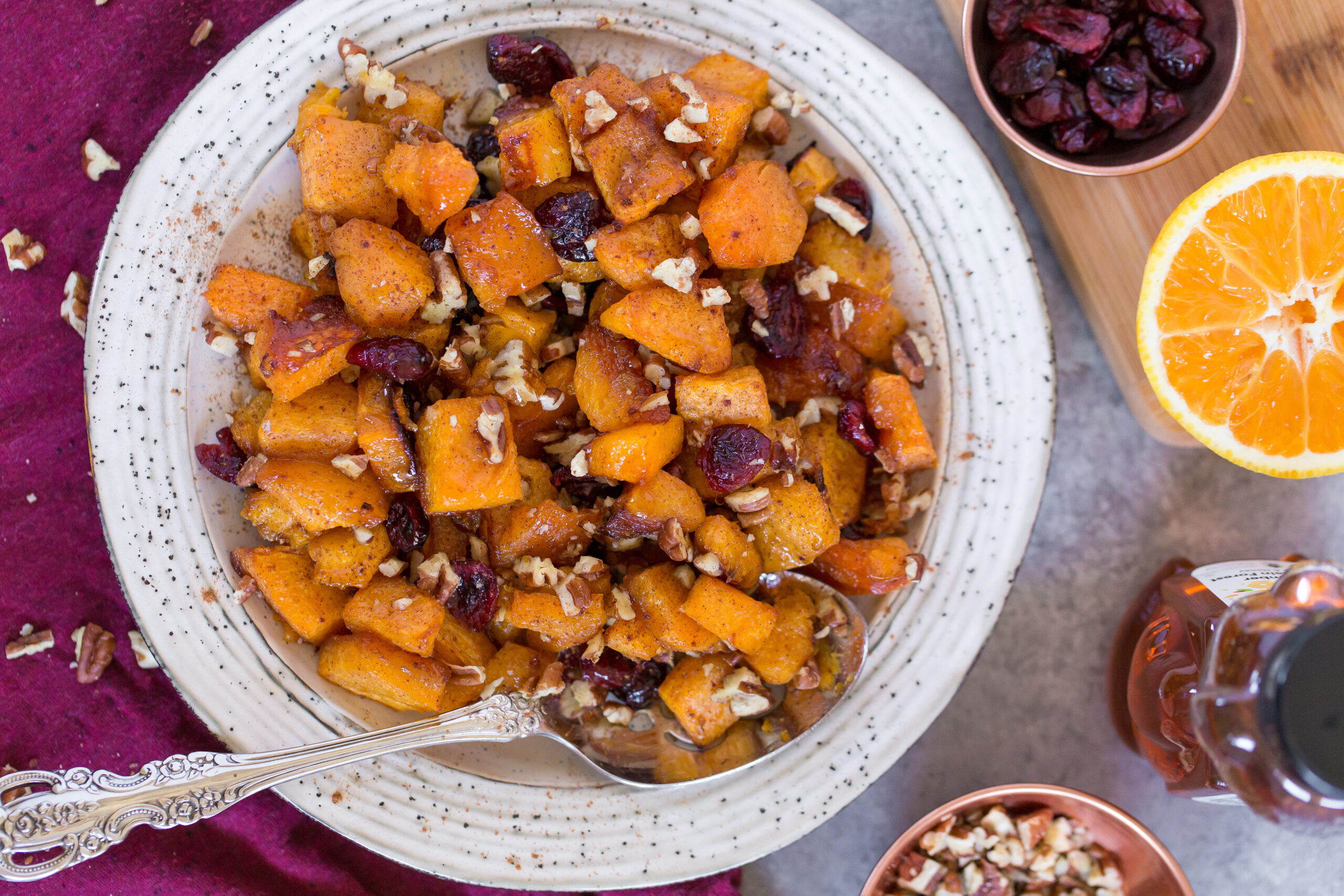 It's no secret holiday dishes tend to be loaded with refined carbohydrates, fat, and sugar that leave you feeling stuffed and sluggish. Luckily, it's easy to lighten up a classic Thanksgiving menu with in-season produce, fresh herbs, and whole grains. Follow these easy tips to enjoy a healthy holiday!
Tips for a Healthy Thanksgiving Meal
First of all, don't starve yourself all day in anticipation of the big meal. Be sure to eat a light breakfast, a few snacks, and drink plenty of water so you're not tempted to overeat later in the day. And definitely don't choose Thanksgiving Day to end a fast! If you're fasting prior to turkey day, make sure you have several days of eating ahead of the holiday to give your digestive system a chance to ease back into gear.
When planning the menu, focus on vegetable-packed side dishes. Besides being loaded with immune boosting vitamins, minerals, and antioxidants, veggies are low in calories and full of fiber to help stabilize blood sugar levels and keep you full so you won't feel the need to go back for seconds or thirds. 
Veggies also make for a colorful autumn feast! There are so many wonderful autumnal vegetables you can get creative with, like carrots, sweet potatoes, squash, parsnips, Brussel sprouts, onions, cauliflower, and broccoli. Including a fresh green salad on the table can help lighten all the heavier, cooked dishes. 
An easy way to ensure you're focusing on veggies is to fill half your plate with vegetables and split the remaining half between protein (turkey) and carbohydrates (stuffing, potatoes, or rolls).
For a more nutritious stuffing, try swapping white bread or cornbread for your favorite whole grain, like wild rice, farro, or quinoa. If you're a fan of wine with dinner, limit yourself to one or two glasses since alcohol adds empty calories and can wreak havoc on digestion. Choose smaller cocktails or skip it all together in favor of seltzer.
Finally, remember to savor your meal and squeeze in some movement where you can. A walk before or after dinner is a great way to get some exercise on Thanksgiving Day. Even better? Get the whole family involved and make it a tradition.
Sample Healthy Thanksgiving Menu:
Roast Turkey with Gravy
Fresh Spinach Salad topped with Roast Sweet Potatoes, Sliced Apples, and Pumpkin Seeds
Roasted Balsamic Glazed Brussel Sprouts
Green Beans Almondine 
Honey Glazed Butternut Squash
Mashed Cauliflower with Roasted Garlic and Olive Oil
Farro Stuffing with Caramelized Onions and Mushrooms
Fresh Cranberry Relish
Pumpkin Pie
Honey Glazed Butternut Squash Recipe 
Honey Glazed Butternut Squash tastes indulgent, but with fewer calories, fat, and zero refined sugars compared to traditional sweet potato casserole loaded with butter, sugar, and marshmallow topping. 
The glaze is a perfect balance of sweet and savory, with equal parts honey and heart-healthy extra virgin olive oil. Vanilla extract, cinnamon, and orange zest add extra dessert-like flavor, while toasted pecans and dried cranberries add a bit of crunchy and chewy texture.
Makes approximately 4 servings
Ingredients
4 cups butternut squash, cut into 1-inch cubes (See Notes)
2 tbsp honey 
2 tbsp extra virgin olive oil
½ tsp pure vanilla extract
Zest of 1 navel orange
½ tsp sea salt
½  tsp ground cinnamon
¼ cup raw pecan halves, toasted and chopped
2 tbsp no sugar added dried cranberries
Instructions
Preheat the oven to 400 degrees Fahrenheit.

In a medium bowl, whisk together the honey, olive oil, vanilla extract, orange zest, salt, and cinnamon. Add squash and toss to evenly coat the squash cubes in the mixture.

Transfer to a baking sheet. Take care not to crowd the squash on the baking sheet. (If doubling the recipe, use two baking sheets.)

Roast about 35 minutes or until squash is tender and beginning to carmelize. 

Remove from the oven and toss the squash with the pecans and dried cranberries. Serve immediately.
Notes
To increase the number of servings this recipe makes, double or triple the recipe. 
One whole butternut squash weighing about 3-pounds will yield approximately 4 cups of butternut squash cubes after removing the peel and seeds. You can also find packages of pre-cut squash in most produce sections. One pound of pre-cut squash should give you about 4 cups of squash, but be sure to check the label for serving size and servings per container. 

Nutrition Information
Per ½ cup serving
Calories: 219
Protein: 2 grams
Fat: 12 grams
Saturated Fat: 1 gram
Carbohydrate: 34 grams
Fiber: 5 grams
Sugar: 15.5 grams
SHARON LEHMAN, RDN
Sharon is an Integrative Nutrition Health Coach, and health and wellness writer. She specializes in intuitive eating, recipe development, food photography, and hormone health. She enjoys sharing healthy living tips and recipes on her blog:  www.heartandstove.com