Reading Time:
4
minutes
DIY Kimchi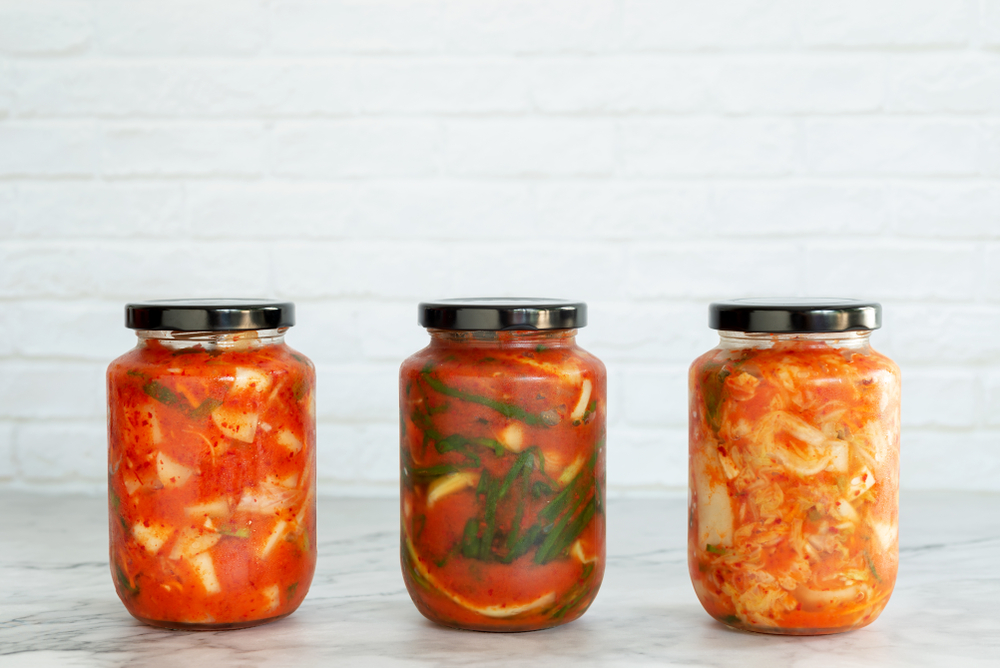 Think of kimchi as Korean pickles, says Lauryn Chun, Founder and CEO, Mother-in-Law's Kimchi and author, The Kimchi Cookbook. [1] [2] These raw vegetables pickled with salt "lift your palate and mood and help with digestion," she says. Although November is kimchi month, Chun says, any time is a good time to DIY a batch. In November in Korea, she says, the annual final harvest of napa cabbage (the most common vegetable used in kimchi) takes place. During kimjang, families and neighbors gather to preserve these vegetables and bury them in earthen jars underground. These practices continue across kitchens throughout the year–in Korea and  throughout the world. DIY Kimchi is a healthy and tasty experiment for anyone.
Where did kimchi get its start?
Pickled vegetables are common to many cultures with cold winters, like Russia and Germany, Chun explains. Kimchi, similar to Eastern European sour pickles, was one of the first ways humans figured out how to preserve vegetables to eat during the fall and winter, she explains.
Why is it healthy?
Especially during the cold months, kimchi is the main source of vegetables for many, says Chun. Plus, thanks to fermentation, live active cultures (lactobacillus) promote healthy bacteria in the gut, she explains. "Since it's a living organism, our kimchi bubbles over when you open it."
Don't be intimidated to make it
Although it tastes complex, kimchi is actually quick and easy to prepare. "If you can make a salad, you can make kimchi," says Chun, who teaches her basic method to kids. In fact, Chun's recipe for quick cucumber and chive kimchi (below) takes a mere ten minutes.
Next, you can truly make it your own, she adds, estimating the existence of about 200 foundational recipes throughout Korea. "I tell people it's not exact like baking a cake, where you need to measure. Instead, you do it by feel. It's a very tactile process."
Here's the basic method
First, select your vegetables. Though many assume kimchi must feature cabbage, it can contain any variety, like radish or carrot. Slice in large pieces, Chun recommends, as with a halved Napa cabbage.
Then, salt, either with a dry or wet brine—although it requires more time, Chun prefers the latter, which she feels intensifies the sweetness of the vegetables. For a dry brine, rub the vegetables with salt and let sit at room temperature for several minutes. For a wet brine, make a salt water solution that tastes as salty as the sea. Submerge the vegetables for several hours, also at room temperature. With either type of brine, it's critical to then rinse the vegetables and pat them dry; otherwise, the kimchi will be overly-salty.
Next, stir the pickled vegetables with seasonings. Many recipes include salted oysters or shrimp or anchovy or fish sauce; for the latter, Chun recommends a brand with no sugar or additives, like Red Boat. Gochugaru Korean chile flakes are another common ingredient, brought over from Portugal in the eighteenth century, Chun says. [3] In addition to adding flavor, the capsicum-rich flakes are anti-inflammatory. Meanwhile, a bit of sugar aids in the fermentation process. "The small amount disappears because it basically goes through the vinegar-making process. The acid eats away the sugar," she says.
Finally, pack the ingredients tightly into a container, and let them sit and ferment. Since "living bacteria like ambient temperatures," she explains, one or two days at room temperature—or 55-65 degrees F—is ideal. In the fridge, fermentation takes four times as long, she says.
Try it on everything
In Korea, kimchi is served at every meal, says Chun. Try it as a condiment, atop bowls, burgers, or sandwiches; or with eggs. You can even eat kimchi as a vegetable side dish, as you would coleslaw or braised greens. The dish adds a pleasing brightness, which contrasts particularly well with rich or starchy foods, like sweet potatoes or beef.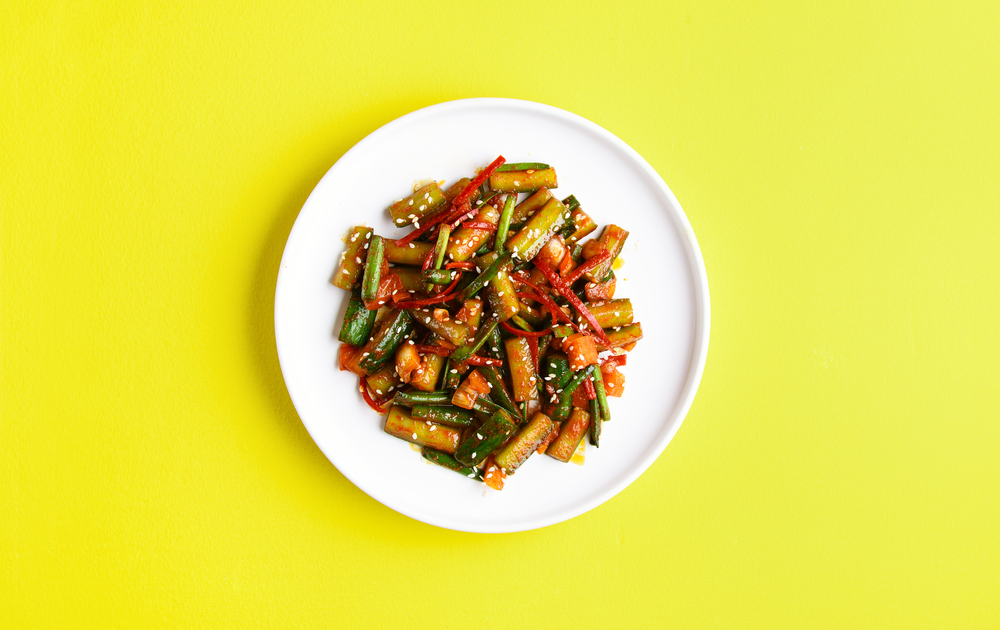 Quick Cucumber and Chive Kimchi (Oyi Buchu Gutjori) 
Prep time: 20 minutes
Brining time: 5 to 7 minutes
Fermentation: Ready to eat
Makes 5 cups
8 Kirby, 10 Persian, or 2 large Japanese or English cucumbers, unpeeled
2 tablespoons kosher salt (preferably Diamond Crystal)
2 tablespoons Korean chili pepper flakes (gochugaru)
2 teaspoons anchovy sauce (optional)
1 1/2 teaspoons sugar
1/4 cup Korean or regular chives, cut into 2-inch pieces
2 tablespoons thinly sliced onion
Halve the cucumbers lengthwise, then cut them into 1/8-inch thin diagonal slices. In a medium bowl, mix the cucumbers with the salt until well combined. Set aside for 5 to 7 minutes until cucumbers sweat and glisten. They will lose some firmness, but should still have a little crunch as you don't want them to be too soft.
Place the cucumbers in a colander and rinse, then pat them dry. In a medium bowl, combine the cucumbers with the chili pepper flakes, anchovy sauce, and sugar and allow to combine for 10 minutes. Add the chives and onion and toss to combine. Eat immediately, or refrigerate and consume within 2 to 3 days.
**Reprinted with permission from The Kimchi Cookbook: 60 Traditional and Modern Ways to Make and Eat Kimchi, by Lauryn Chun, copyright (c) 2012. Published by Ten Speed Press, a division of Random House, Inc.